Commenting on a Debrief Issue
Commenting on any open or closed Debrief issue, whether your own or anyone else's, is easy to do:
Click on the Subject line of the issue you wish to comment on to view the issue:

The issue will then display: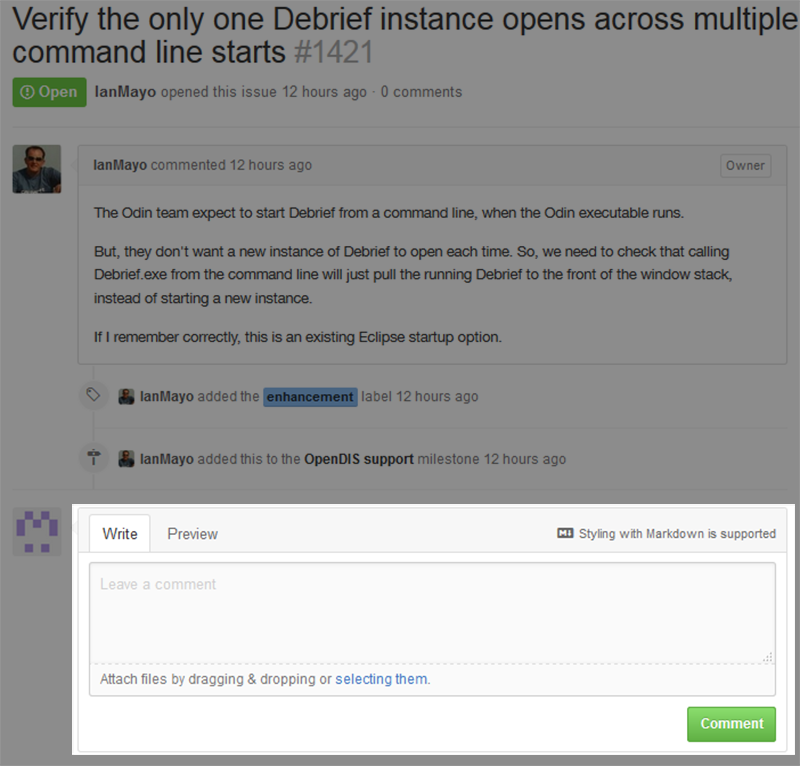 As the above image shows, there is a comment box below the original issue raised, and any additions, changes, or comments added since then in chronological order. To add a comment:
Click in the Write field and enter your comment.
Once your comment has been added, click on the Preview tab to view how it will look once submitted. This isn't necessarily that important if you're not using markdown text*, but it's always a good idea to give everything you write a once-over before posting.
You can add files to your comment by either dragging and dropping them into the form, of by clicking on the selecting them text link. This will open up a File Upload dialog box where you can locate and add your files.
As mentioned in our earlier post, Creating a Debrief Issue, bear in mind that Github does have a limit on attachment file sizes, so please consider using Dropbox (or similar) to provide access to excessively large files.
Once your comment is ready to post, click on the Comment button. Your post will be added to the issue.
* Note: if you're familiar with using Markdown text, you can use this styling in all your Debrief/Github comments. Click here for more details on using the markdown format.
Recent Posts